Over the past few years, the world of Business intelligence and analytics has been evolving. Traditionally, the technology stack involved in BI began with what used to be referred as data warehousing and reporting.
This has advanced over time as visualization technologies such as Tableau and Qlik began transforming the top of this stack. This transformation has gone on to the point that it's become a self-service function in the business that is no longer managed heavily by IT. This function is called self-service visualization and data discovery.
Why Resource Point?
Ability to create a significant impact through a unique combination of Business Consulting, Technology Consulting leveraging rich and vast experience
Experience in implementing a wide array of projects leveraging multiple workloads of Business Intelligence across different industries
Implemented and maintaining various ETL systems using MSBI
Created many reporting solutions and portals using Cognos, SSRS, Crystal Reports, Business Objects
Proven global delivery model to enhance value and time-to-market
Migrated data from various legacy systems into structured databases
OUR TECHNOLOGY EXPERIENCE
Why Do I Need a Business Intelligence Solution?
Share information efficiently and effectively with people across your organization
Empower your people
Simplify collaboration and sharing
Improve alignment with a single source for accurate financial and operational information
Gain insights to understand and analyze your business performance & opportunities on a deeper level
Deliver meaningful analysis and reporting
Have a solution with scalability, flexibility to grow and change as your organization does
Transformational Analysis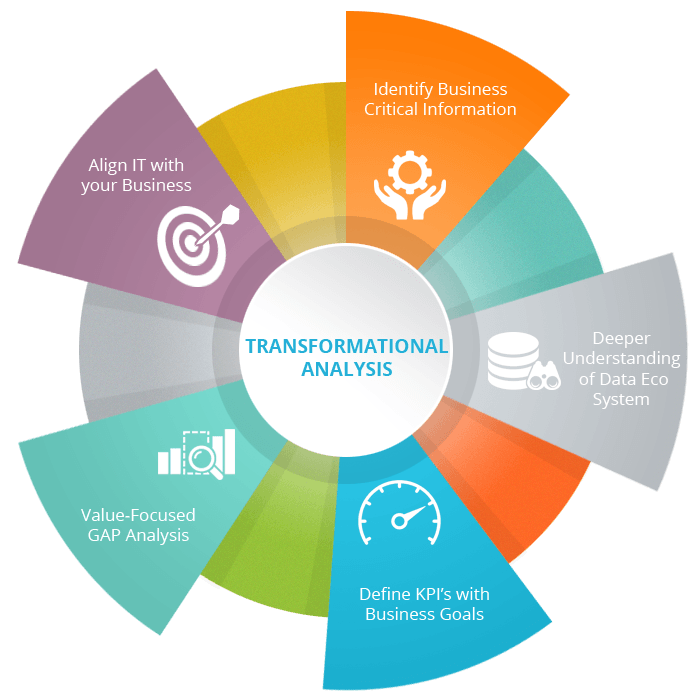 Visualize your Business